Waste Trilogy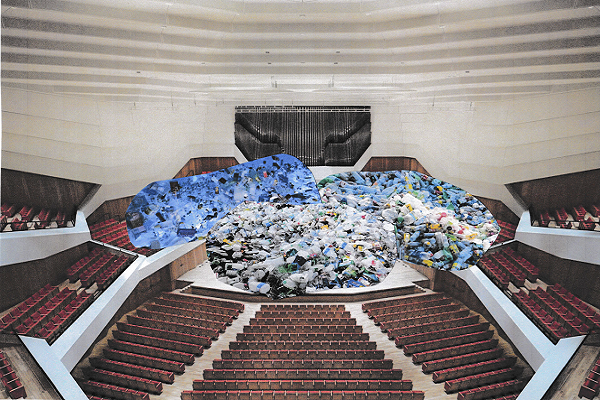 A contemporary choral piece in three parts.
A reflecting on three generations of humanity and their struggle with climate change.
Waste Trilogy is a ca. 30 minutes long piece involving visual components such as plastic bags, recycled materials and solar lights.
1 By
2 Swimming Along In Your Own Waste
3 A Good Place
Part 1:
A smaller adult choir starts the piece joyfully and carefree and leaves the stage full of plastic bags and recycling materials.
Part 2:
A larger youth choir throws angrily and thoughtful the waste from the stage
and asks the audience at the end of the piece to collect it with them.
Part 3:
Starts in darkness with an even larger boys and girls choir bringing a voice of hope and light, echoing the previous teenagers but illuminating the concert hall and ending with a uplifting organ and a united message of hope.
Commissioned by Artistic Director of Dresden Philharmonic Choir Gunter Berger for their bi-annual International Children's Choir Festival. The third part of Waste Trilogy will be premiered by six children choirs from all over the world at Kulturpalast Dresden in 2021.
World premier postponed to 2021 due to Covid-19 pandemic.
Dresden