Berliner Ensemble / Baal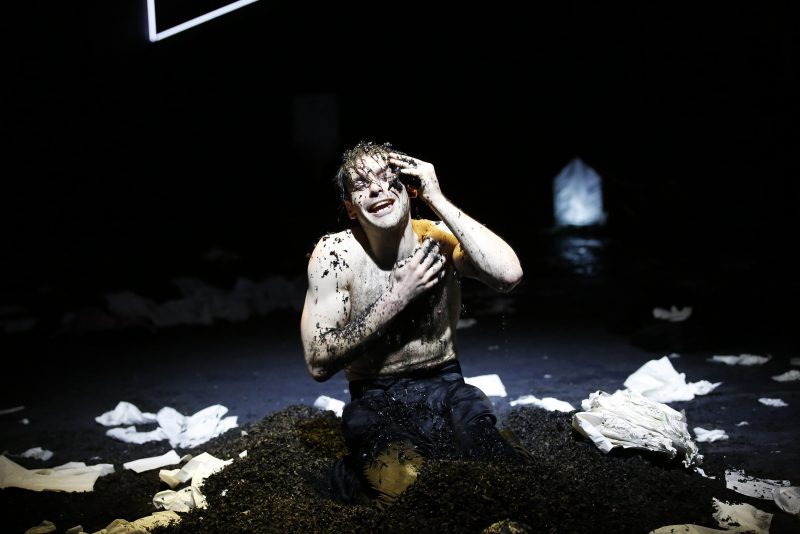 Esmeralda has written the score for the all time classic play: BAAL by Bertolt Brecht. Together with fellow composers Jan Brauer on electronics (Brandt Brauer Frick) and Matthias Trippner on drums and sounds, they have created  a very modern world with Bjork-esque songs  and atonal sound landscapes full of energy. The entire ensemble of 8 actors will be sining to these unique electronic sound landscapes. The original music that Brecht once wrote for his play is still resonating since 1918. It even inspired icons like David Bowie to cover the songs and re-record them. In director Sebastian Sommer's production there will be an echo of the original songs translated into a much more contemporary music world.
Original songs include:
Baals Lied
Der Choral vom Manne Baal
Erinnerung and Marie A.
Die Legende der Dirne Evelyn Roe
Additionally Sommer and Esmeralda  have chosen poems of Brecht's oeuvre which have never been scored before and have created a whole new body of song material for Baal.
Original never before scored poem by Bertold Brecht
Music: Esmeralda Conde Ruiz, Jan Brauer, Matthias Trippner
Drums: Matthias Trippner
Bass synthesiser: Jan Brauer
Vocal coach: Esmeralda Conde Ruiz
Actor: Anke Engelsmann
*All background noises are stage rain and press
Words: Bertold Brecht
Music: Hans Dieter Hosalla
Arrangement: Esmeralda Conde Ruiz, Jan Brauer, Matthias Trippner
Drums: Matthias Trippner
Bass synthesiser: Jan Brauer
Vocal coach: Esmeralda Conde Ruiz
Actor: Felix Schtrobel
*All background noises are stage rain and press
Words: Bertold Brecht
Music: Franz S. Brunier
Arrangement: Esmeralda Conde Ruiz
Vocal coach: Esmeralda Conde Ruiz
Actor: Matthias Mosbach
Matthias Mosbach plays the lead role Baal,
sings the song unmiced and plays the bass in this scene.
*All background noises are stage rain and press
BAAL Bertolt Brecht
Premiere: 6. April 2017 at Probebuehne, Berliner Ensemble
Director: Sebastian Sommer
Stage Design: Karl-Ernst Herrmann
Costume: Karl-Ernst Herrmann/ Wicke Naujoks
Music: Esmeralda Conde Ruiz, Jan Brauer, Matthias Trippner
Producer: Steffen Suenkel
Actors
Matthias Mosbach (Baal)
Ursula Hoepfner-Tabori (Mother)
Felix Strobel (Ekart)
Anke Engelsmann (Emilie)
Karla Sengteller (Johanna)
Celina Rongen (Sophie)
Boris Jacoby (Mech/Mjurk)
Sven Scheele (Piller/Pschierer)
Jan Brauer (Elekronik, Synthesizer) Matthias Trippner (Elekronik, Schlagzeug)
© MuTphoto/ Barbara Braun